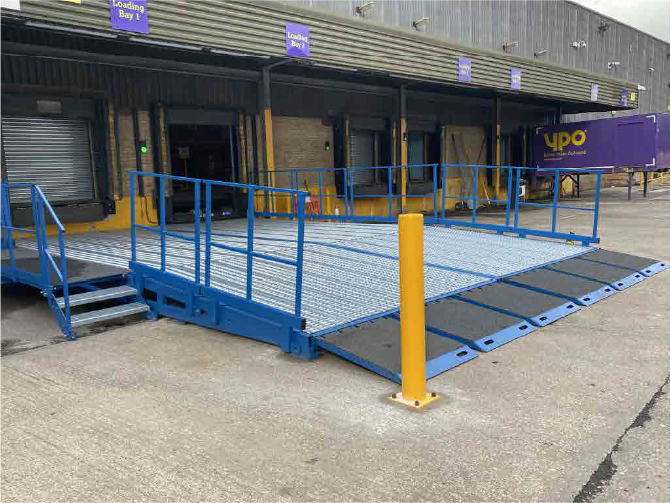 These Areas in the UK Have the LEAST Available Warehouse Capacity
The lack of available space is causing businesses across some areas of the UK serious headaches. Sure, this may be one supply chain issue that's not granted as much media coverage as, let's say, innovation or Covid, but what's been coined the 'space race' is a problem. And, depending on where you are in the UK, a big one.
Of course, the logistics, distribution, industrial and manufacturing sectors have faced an onslaught of challenges over recent years. Covid. An eCommerce explosion. Skills shortages. Adapting to digital innovation. It's no surprise that businesses have found themselves on the ropes.
Limited space results in limited options. A problem that's quite unwelcome, especially when prices rise, existing resource management and the demand for flexibility are factored into the equation – what about future planning?
Ask anyone in the know and they'll likely wax lyrical about the necessity of WMS's. Automation and data-driven insights are integral to managing the challenges and pressures businesses face. Then there's the problem of reduced warehouse capacity. This is something that must be addressed pronto.
Is the Lack of Space Issue Critical?
Okay. So, classifying the lack of space as critical may well be hyperbole. However, that's not to say that there isn't an issue. There is clearly a lack of available warehousing space.
The severity of the issue varies from area to area. Rightmove, the UK's largest online real estate website, features data outlining the 50 biggest UK cities and towns and the number of registered businesses in each location. With a simple calculation you can then uncover how much square footage is available in each location.
Now, we know, this is a general calculation. However, for the point of the exercise, we ask that you just run with it. What we discover is that Blackpool has 516 sq. ft of available space per registered business and therefore the region least affected by the shortage of warehouse space. Doesn't sound like much, right?
Interested in learning of 10 most affected areas of the UK? Check out the table below:
| Position | Location | Available Space (sq. ft) | Registered Businesses per Location | Sq. ft of Warehouse Space |
| --- | --- | --- | --- | --- |
| 1 | Blackpool | 2014185 | 3900 | 516 |
| 2 | Sheffield | 5689458 | 16345 | 348 |
| 3 | Liverpool | 3704306 | 14695 | 252 |
| 4 | Warrington | 2124607 | 9315 | 232 |
| 5 | Gloucester | 755335 | 3690 | 190 |
| 6 | Bristol | 3074716 | 18725 | 164 |
| 7 | Manchester | 2843213 | 23565 | 120 |
| 8 | Stoke-on-Trent | 753651 | 6430 | 117 |
| 9 | Peterborough | 793850 | 7835 | 101 |
| 10 | Sunderland | 584790 | 6140 | 95 |
These are the top ten locations but lingering near the bottom of the UK's total available square footage table is Cambridge with just 1.41 sq. ft of available warehouse space. Huddersfield has a mere 1.66 sq. ft and rock bottom is Slough with just 0.34 sq. ft.
What's apparent is that right now the commercial property market has changed. You only need to look at the volume of businesses that have migrated online over the last three years to see that. However, there is still a clear need for physical premises across countless sectors.
What warehouse owners should focus on is better utilising their available space. Intelligent materials handling solutions, e.g., portable loading bay ramps and dock levellers offer a fantastic, flexible way of loading and unloads goods of all descriptions within warehouse environments of all sizes.
How Warehouse Management Systems Affect the 'Space Race'
For anyone who's unaware, Warehouse Management Systems (WMS), leverage software integration to unify and automate processes and synchronise updates in real-time. Think inventory. With WMS, businesses can maximise their warehousing space utilisation and equipment resources by using WMS to coordinate and optimise supply chain distribution by aligning inventory management with fulfilment services and purchasing methods – all in real-time.
Today's dynamic, omnichannel fulfilment economy means that customers want to access to buying – and returning – anywhere in the world. Businesses need to be able to meet customer demands. WMS' must optimise fulfilment capabilities. It's only through this that businesses can stay up to date on all demands and activity anywhere, anytime.
Leveraging a WMS allows businesses to access accurate data to make decisions. Not only does this increase operational efficiency of stock control, including forecasting, but it bolsters efficiency and business reputations, whilst allowing employees to concentrate on more important aspects of their roles.
Warehouse operations must be efficient to control costs, maximise stock to meet changing consumer demand, and outsourcing materials handling solutions, like, for example, mobile yard ramps.
Why Businesses with Significant Warehouse Capacity Should Leverage WMS to Maximise Spatial Capacity
There are four key reasons why businesses with significant warehouse capacity should be leveraging WMS to maximise their available space and optimise their efficiency. Keep reading to discover the benefits that your business can reap by integrating a WMS.
Stock Control Optimisation
Limited warehouse space means that optimising inventory volume is paramount. Only by doing this can you get the most out of your available square footage. This is where a WMS can help.
One of the most affectual elements of WMS' is not just the insight they offer into current spatial availability, but forecasting future space based on inventory availability. Not only does this save space, but money. Insights on what products are selling and what products gather dust on the shelves provide businesses with a benchmark cost of what they need to buy and what they don't.
Even better, let's say you've decided to loan or purchase a mobile yard ramp. You need to know your available space, right? Insight into stock volume gives you deeper insight into spatial availability and what size material handling equipment, for instance, is best suited to your warehouse environment.
Visible and Traceable Returns
We all know that sometimes customers return products. That's the nature of commerce, right? The more products you sell, the more returns you'll have to manage. Selling, let's say seasonal decorations or iPhones and iPads means that you may have to manage more returns. Why? These types of goods are small. You'll fill your warehouse with more of them. Sell, let's say furniture like beds and couches and you'll likely have fewer returns to manage. Why? You'll likely have less stock in your warehouse. There's less available space, right?
WMS is integral to making sure that your returns process is handled correctly and efficiently. WMS solutions deliver optimal visibility and traceability on all returns from the instant a customer makes a request. Not only that, but any intelligence also gathered will allow businesses to mitigate any future returns issues.
For example, a customer returns a couch. Why? A seam was ripped on delivery. You search the WMS for the location of where the couch was stored in the warehouse and discover it's next to a sharp metallic shelving unit. This caused a rip. You now know not to store couches in that location again.
By optimising stock control, you'll optimise and minimise the returns process. An efficient, streamlined returns process allows for more accurate stock purchasing. This saves you money. Better still, a WMS can automatically adjust stock levels when returns are processed, removing any administrative burden.
Also, having a clear understanding of your returns process and purchasing allows for better warehousing spatial coordination. So, if you want to install a mobile yard ramp, you know how much space you have to work with and where, precisely, you'll be able to install it.
More Efficient Service
The only world is fast. Seconds count. A cliché statement, we know, but one that's no true. Think about it, how often have you tried to order with just a few clicks? Been denied, got frustrated and moved on to another purchase, another website. Then there's delivery. We all want next day delivery. No one wants to place an order and play the waiting game. For days on end.
Giving warehouse operatives mobile handheld devices with inventory information allows businesses to process orders faster, with greater efficiency and a reduced rate of error. If this isn't a reason to integrating WMS, nothing is!
Another bonus integrating WMS is that warehouse operatives are able to perform their roles with greater efficiency, and businesses may be able to cope without hiring seasonal or unnecessary staff. This saves them money.
Wave Goodbye to Delivery Issues
A supply chain isn't a success without streamlined, efficient delivery. Integrating couriers within a WMS means more accurate delivery times. This means that businesses can despatch inventory in good time, preventing delays, improving customer service, reputation and ultimately client retention.
What's just as important is that an efficiently run warehouse is one without mountains of inventory stacked on shelves, taking up space that could be better used for new, higher value inventory.
Integrating a WMS enables businesses to mitigate a whole host of issues like these. All you need is the data to deliver better employee workflows and customer levels of service.
Managing Warehouse Capacity is Paramount
As any business reliant on inventory will tell you, managing warehouse capacity is paramount – especially within environments of limited space.
Depending on where you're based in the UK – as we've already outlined, some areas have much more capacity than others – warehouse capacity management may well be one of the most important aspects of your business.
For this reason, leveraging mobile materials handling solutions can make the difference between having commercial flexibility, both spatial, operational and financial, and always feeling as though you're disorganised.
Interested in learning more about mobile materials handling solutions and how they can be tailored to your business operations? Get in touch with Chase Equipment today.