Chase Standard Ramps
A Mobile Yard Ramp is the best solution for safe and efficient loading and unloading of containers and trailers by forklift truck when no dedicated loading bay is available.
Our extensive range of mobile yard ramps are available for sale or hire, to suit everybody`s need. We first created yard ramps over 45 years ago and have continually developed and improved our range ever since.
Running a large fleet of hire ramps throughout the UK means, we get continual feedback on product design and development.
All "Titan" mobile yard ramps are designed by Chase to operate under the most arduous of conditions with ease of manoeuvrability and operator use.
They are constructed of steel and combine the calculated effective use of materials to give an efficient and balanced transfer of dynamic loads through the structure. The result is a product with a long service life requiring minimal fatigue maintenance. A durable finish to the product is provided by a high specification paint incorporating rust inhibitors.
Our ramps are finely balanced to facilitate easy movement by a fork truck, and included as standard, are wheel chocks, safety chains and a forklift pushing-pulling attachment. Our ramps are tested in house and by an independent certifying body Lloyds British.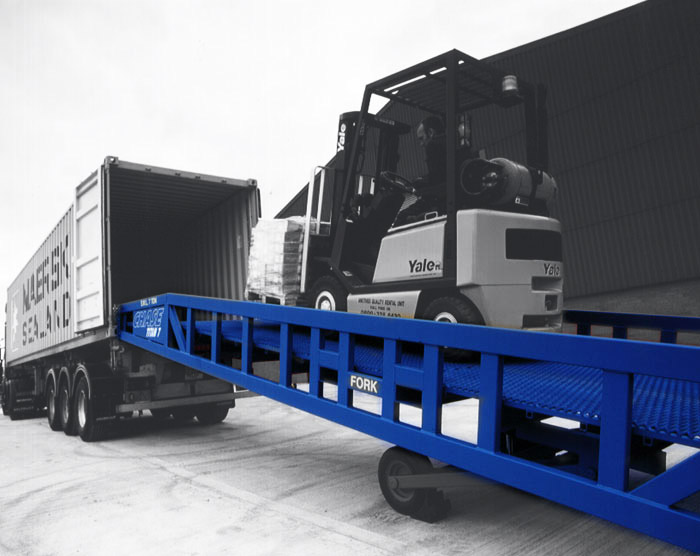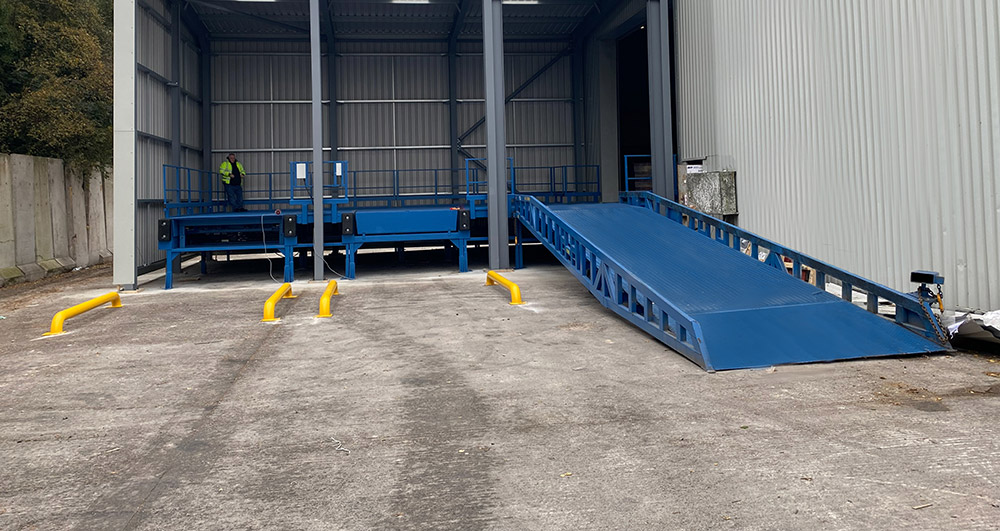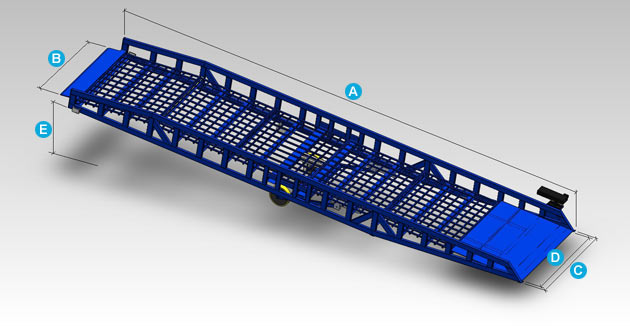 Specification and features of Titan Mobile Yard Ramps include
Ease of manoeuvrability and operator use
Long service life
Durable finish with rust inhibitor
All steel manufacture
Finely balanced to assist manoeuvrability
Hydraulic hand pump for easy lowering and raising of ramp to desired height
Chains and anchor brackets to secure ramp to truck
Durbar run-on plate to take the impact of the fork truck as it goes onto the ramp
Expanded-metal open mesh bed for maximum grip
Note: For 3 wheeled trucks, additional flooring and support required
Specifications & Features
| Specification and Features for Standard Titan Ramps | Titan 7 | Titan 10s | Titan 12 |
| --- | --- | --- | --- |
| A. Total length | 10.835m | 10.835m | 11.770m |
| B. Lip plate width | 2.220m | 2.220m | 2.260m |
| C. External width | 2.600m | 2.600m | 2.640m |
| D. Internal width (usable) | 2.220m | 2.220m | 2.260m |
| E. Operation range | 1.000m to 1.650m | 0.850m to 1.700m | 0.850m to 1.900m |
| Maxiumum load capacity | 7,000kg | 10,000kg | 12,000kg |
| Product weight | 2,800kg | 2,880kg | 4,160kg |
| Urethane-tyred wheels | Std. | Std. | Std. |
| Side lifting pockets | Std. | Std. | Std. |
| Push/pull attachment | Std. | Std. | Std. |
| Hand pumped hydraulic opertaion | Std. | Std. | Std. |
| Expanded metal deck surface | Std. | Std. | Std. |
| Level section length | 1.840m | 1.840m | 2.250m |
| Safety rave height | 0.300m | 0.300m | 0.300m |
(Specifications subject to change without prior notification)
Nationwide Support & Servicing
To look after our customers at the highest level, we understand how important it is to keep operations running smoothly and continuously. We run a national breakdown cover 24/7 and service all makes and types of mobile yard ramps not just our own. Our large team of experienced service engineers will get the job done as quickly and effectively as possible, reducing costly down time.
Operator Training
Chase now offer comprehensive training program in the operational use and daily / weekly maintenance checks to ensure the ramps are in a suitable condition to allow safe operational use.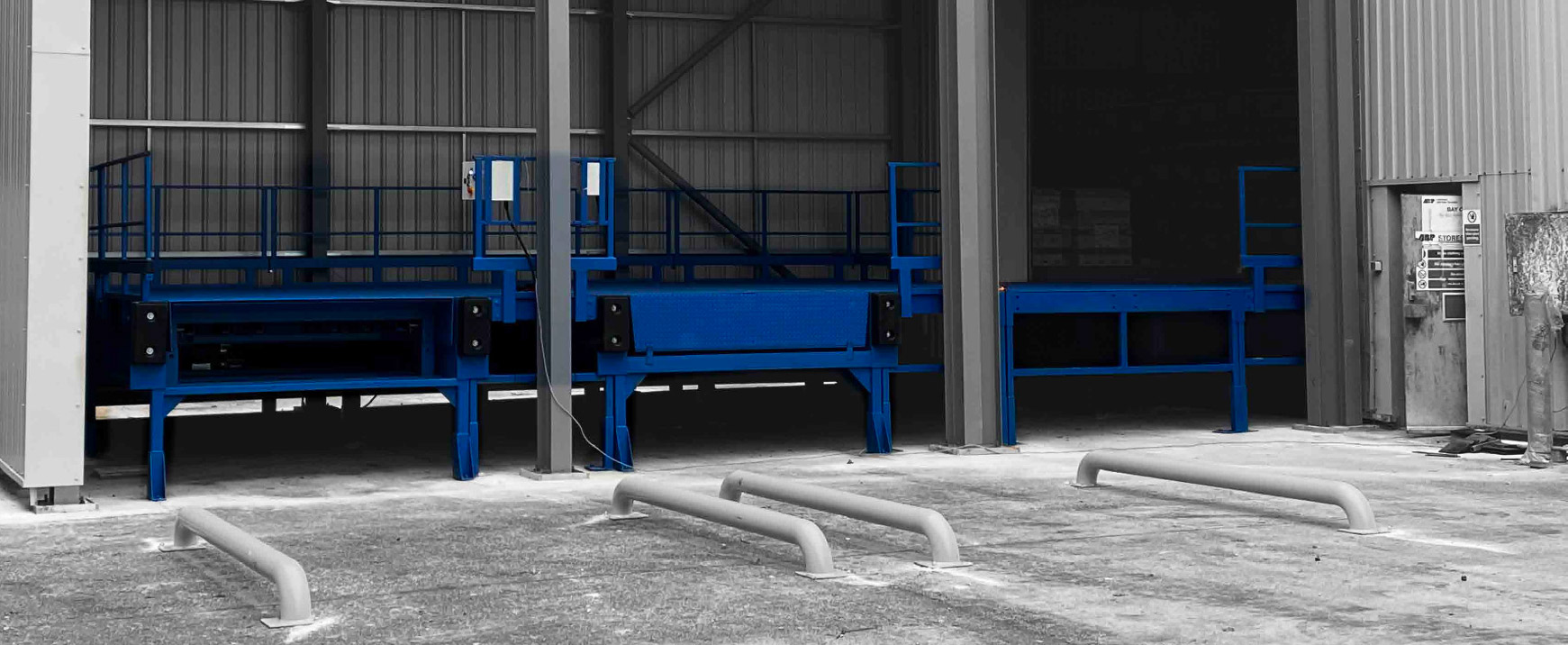 Get a Quote
Book a call to find out more about our full range of products & services and get a quote.
Or Call on 01902 675 835