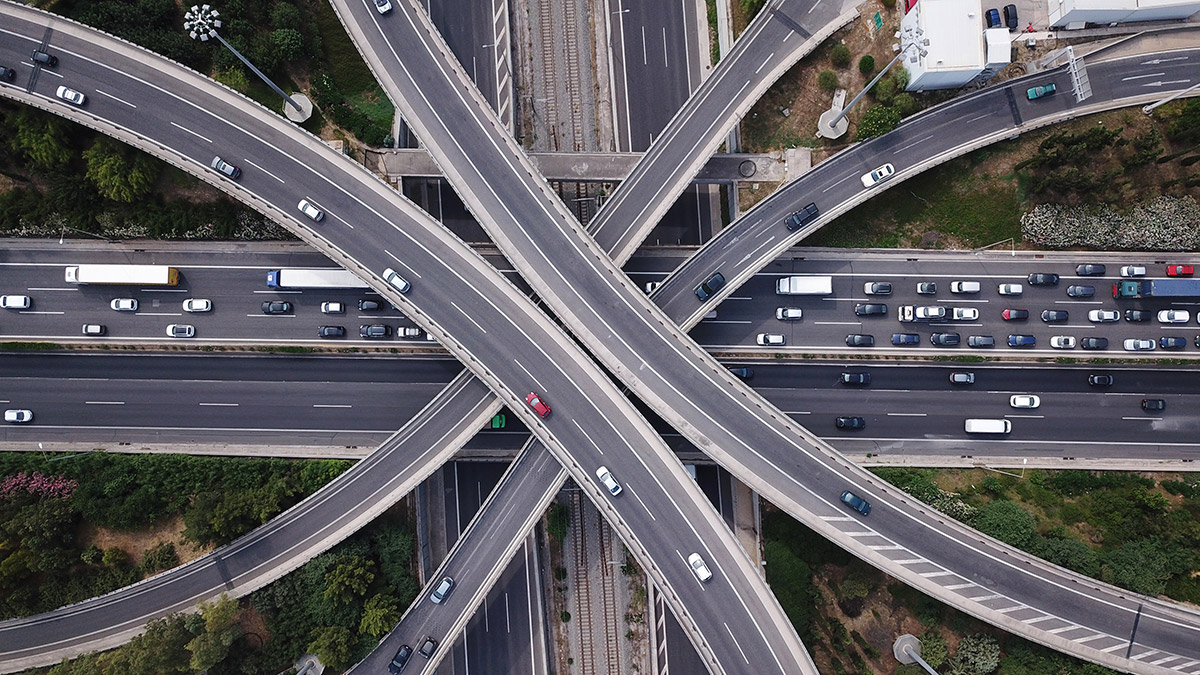 The Rise of the UK Warehouse and Golden Age of UK Logistics
Over the last decade the number of logistics premises in the UK has doubled. A bold statement, but one that is 100% true. It's not hyperbole to state that the UK is entering into a golden age of logistics.
This prolific growth is, perhaps, best characterised in The Midlands, the region with the most concentrated number of logistics and warehouse providers in the UK. Additionally, part of the East of England and Yorkshire and Humberside, regions not traditionally considered to be major logistics hubs now are major sectoral logistics powerhouses.
The Reasons for the Rise
It's not difficult to see why the why UK warehousing and logistics have blossomed in the last few years. Britain's exit from the EU and the Covid-19 pandemic have forced businesses across countless sectors to adjust their commercial operations, something that has contributed to need for increasing warehousing square footage.
The Midlands, for example, has an ideal geographical position (with 90% of the British population are within a four-hour drive) for business to store and transport goods anywhere in the UK quickly and efficiently, thereby optimising supply chains.
In looking at the figures, it's not hard to see why there has been such a startling rise in the transport and logistics sectors. In 2021, the number of transport and storage businesses was 88% higher than in 2011.
Why has there been such a huge rise in storage and logistics? Simple. More warehousing and logistics premises have been required to support the growth of eCommerce and nationwide product distribution. Think about it, consumers rarely shop locally anymore, preferring to hunt for value online. Nationwide eCommerce retailers need to have a nationwide network of facilities to support the supply chain.
The Importance of Mobile Loading Solutions
Simply put, this golden age of warehousing and logistics would not be possible without flexible warehousing and loading bay solutions. Standard, immobile loading ramps are confirmed to one specific area. This inflexible approach can have a detrimental effect on functionality, something that will compromise supply chain efficiency.
Chase Equipment mobile loading solutions enable businesses to utilise more of the available square footage, allowing goods to be loaded and unloaded seamlessly. Better still, mobile loading solutions can accommodate a variety of commercial vehicles. From large HGVs to lightweight commercial vehicles, loading and unloading goods is a breeze.
Better still, business who choose mobile loading solutions can reduce overall costs. Why? Well, by optimising supply chain efficiency businesses can automatically negate any costly delays – if nothing else, having of equipment that can be easily transported across the complete square footage of a warehouse can save time – even the cost of installing another static yard ramp to manage distribution volume.
Distribution Services Have Driven the Growth of Transport and Storage
Across the UK, transport and storage remains a reasonably small industry, though its boom over the last decade has not gone unnoticed. According to the Office of National Statistics (ONS), in 2011 there were approximately 17,000 postal and courier depots in the UK. By 2021, this figure had swelled to 42,500, a 147% increase, with a large portion of the growth being driven by the West Midlands.
The growth of transport and storage over the last decade has been driven by couriers and hauliers. Additionally, 69% of businesses in the transportation and storage sectors have reported using more diverse suppliers in the wake of Britain's exit from the EU.
The diversity of distribution services and evolving commercial transportation options have resulted in businesses requiring more cost-effective, flexible and tailored approach to their logistics and warehouse storage requirements.
Moreover, with the continued rise of eCommerce and the general decline of some local businesses as consumers continue to seek out value online over in-person service level, this trend looks destined to continue in the years to come.
The Shift to Online Retail Has Increased Warehouse Demand
The ever-expanding online retail share is hardly something new. As everyone knows, online retail sales swelled the stratospheric heights during Covid lockdowns and more than a year on from lockdown being lifted, consumers still favour shopping online.
In the US alone, recently released statistics found that the pandemic added $219 billion to eCommerce sales in 2020-2021. Data from 2021 in the UK showed that online shopping accounted for 36.3% of the country's total retail sales. Online grocery sales in the UK grew by 121% in January 2021.
Now, of course, these statistics are somewhat inflated by lockdowns, but the legacy of the pandemic and lockdowns is evident by the sharp rise in warehouse construction projects. In 2021 £5.8 billion of new warehouse premises construction was greenlit – more than any year since 1985. The East Midlands accounted for 20% of all new warehouse projects, with Yorkshire and Humber not far being at 16%. It's clear that how we shop has changed and retail infrastructure has had to adapt to this.
For supply chains to be efficient, warehouses need to adopt progressive operations. Static yard ramps will simply not be able to meet supply chain needs. Mobile loading bay solutions must be adopted to ensure seamless supply chains.
Growth Rate for New Businesses vs. Logistics and Warehousing Demand
According to the ONS workforce jobs by industry data the number of business premises practically doubled from 2011 to 2021, whereas employment in the transport and storage sectors was only 20% higher than in 2011.
Why is this? Well, the difference in growth rates may reflect the increased number of small businesses, sector-specific automation or the increased number of small businesses.
Brexit, Covid and two general elections in just five short years have all affected the performance of small businesses across countless sectors in the UK. In 2021, there were approximately 5.5 million small businesses. This is a decline of 5.9 million in 2020. However, the national economy relies heavily on small business success, with SME's accounting for 99% of the UK's business population.
What we know for sure is that, according to the ONS, the percentage of transport and storage premises with fewer than five employees increased from 67% in 2011 to 79% in 2021.
Whereas warehousing and logistics demand and small businesses are not completely interconnected, the importance of having a buoyant warehousing and logistics sector in the wake of wholesale societal changes which have affected the UK's economy cannot be overstated.
A robust, resilient logistics sector is imperative – especially in the wake of Brexit and Covid-19. Why? The increased reliance on what the sector contributes to the economy. More and more businesses are migrating online, a trend that'll likely persist in the years to come. Logistics services, especially those operated by small businesses, may well become the crucial to the UK's economic growth.
Are we likely to see small businesses bounce back in 2022? We're not economists, nor do we have any sufficient data to make a sound assessment yet, but we wouldn't bet against it. What will these small businesses need? Well, product-focused business will need strong, reliable logistics to cause zero disruption to supply chains. Expect warehouse demand and flexible services, such as mobile loading bay solutions to become more important than ever.
Are We Entering a Golden Age of Logistics?
The logistics sector has seen its fair share of challenges over the last few years. Brexit disrupted global supply chains, but at the time, little did operators realise that the worst was yet to come.
Covid-19 pretty much brought the global flow of goods to a virtual standstill. Industries of all descriptions found it difficult to procure goods. Strict enforcement of border controls led to back-ups and delays. Covid-19 caused business revenues to plummet.
What was learnt from this was the necessity for supply chains to be more resilient and for business operators to adapt to an ever-changing world.
This means that as of 2022, many logistics providers are researching and implementing new, innovative operations. From wholesale digitisation to pop-up warehousing and, of course, mobile loading bay solutions.
These significant changes represent, arguably, the biggest upheaval to the logistics sector since the Industrial Revolution. Are we entering a golden age of logistics? Well, let's just say that the pieces are all in place.
Resource:
https://bmmagazine.co.uk/in-business/transport-logistics-is-the-uks-fastest-growing-sector-but-wages-lag-behind/
https://www.ons.gov.uk/businessindustryandtrade/internationaltrade/articles/earlyinsightsintotheimpactsofthecoronaviruspandemicandeuexitonbusinesssupplychainsintheuk/february2021tofebruary2022
https://www.digitalcommerce360.com/article/coronavirus-impact-online-retail/
https://thecircularboard.com/uk-ecommerce-statistics/
https://www.gov.uk/government/statistics/business-population-estimates-2021/business-population-estimates-for-the-uk-and-regions-2021-statistical-release-html#:~:text=SMEs%20(small%20and%20medium%2Dsized,4.2%20million%20had%20no%20employees