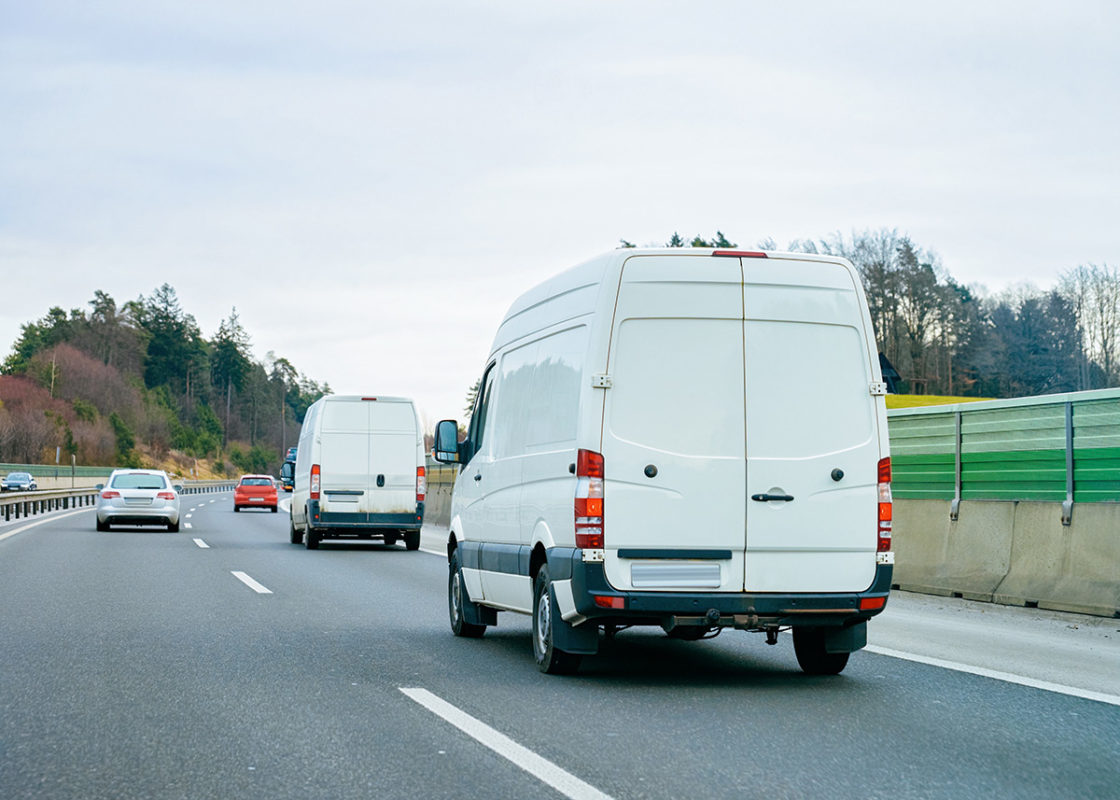 Sales of New Vans Soar Close to Record Levels Amidst Business Re-Opening and Home Delivery Boom
Over the last fifteen months, much has been made of the unprecedented surge in online sales. In May 2021, a report by UN trade and development experts, UNCTAD, stated that the global market share of online retail sales grew from 16-19% in 2020. *
That may not sound like much of a rise. But remember though, we're talking about worldwide eCommerce sales. That 3% rise amounts to $126 billion.
Indeed, as reported in Forbes at the end of April 2021, global eCommerce sales topped $4.2 trillion. * In what's, perhaps, best described as 'the pandemic effect', Forbes uncovered another interesting statistic: that prior to global lockdowns, 15% of UK shoppers have never bought something online before. *
With figures like that, it's easy to understand just how important global supply chain logistics really are. In short, without the dedication and sheer efficiency of supply chains at a time when billions of people have relied on them more than ever, who knows how we all would have fared over the last fifteen months.
Now, retail eCommerce aside, another sector has bore the brunt of the tumultuous last fifteen months. One that is only now beginning to come to light: the automotive sector.
The eCommerce Boom and New Van Sales
The first six months of 2021 saw the sales of new vans reach record levels. The unprecedented boom in home deliveries, combined with the gradual re-opening of the economy have, no doubt, fuelled the need for businesses to offer assured logistics solutions and hence a surge in sales.
A total of 191,151 new vans were registered in the months January to June 2021. This represents a 76% increase compared to the first half of 2020. June alone saw 34,363 vans registered, a 14.4 % increase on June 2020. *
Indeed, demand for 2.5-3.5 tonne vans was, no doubt, accelerated. June 2021 saw some 24,434 vans registered. This accounted for 71% of all vehicle registrations. *
It's clear that businesses across the UK are favouring light commercial vehicles over heavy-duty HGVs and this in-turn has continued to affect supply chain logistics. If nothing else, yard ramp solutions need to be tailored to vehicle – and environment size. Yard ramps offer the flexible solutions that businesses and make best use of available warehouse and distribution centre space to avoid supply-chain bottlenecks.
This is something that's not only true today, but the future. If current trends are to continue, businesses will need to adopt flexible solutions.
The Rise of Electric Vehicles
Just a decade ago, electric vehicles were a novelty. Today, they are the norm. Indeed, EV sales increased by 107% in 2020, from 359,000 to 745,000 vehicles sold in the UK. * Of course, the total UK sales volume is still a way of that of petrol and diesel vehicles, but the trend is evident for all to see. Electric vehicles are on the rise.
In June alone, 1 in 10 vehicles sold in the UK were electric. Industry insiders have cited several reasons for this. Obviously, EV vehicles are today viewed as fashionable, with Tesla's dotting suburban and cityscapes the UK over. There is also a strong argument to be made for people in the UK becoming more environmentally conscious and therefore ditching traditional petrol and diesel vehicles in favour of electric power.
Moreover, the introduction of clean air zones in cities across the UK has further fuelled the sale of electric vehicles. However, what's most attractive to businesses is that EVs more economical than petrol or diesel vehicles. On a cost per mile calculation, EVs are 75% * cheaper and are therefore a welcomed addition to their fleet.
From October 2021, Royal Mail will be introducing 3,000 * electric vehicles to its fleet – a tenfold rise over the current 300 vehicles that it current has on the road, with Mercedes and Peugeot expected to claim the lion's share of sales.
Will this mean that businesses will have to evolve their distribution centres? Well, all signs point to yes. Not because of the increased number of EVs but because small commercial vehicles will increasingly be more prevalent on our roads, replacing large HGVs. The adoption of flexible loading ramps and loading bay equipment will, simply put, be a necessity.
A New Approach to Supply Chain Distribution
In June 2021, there were 186,000 new vehicles were registered – a 28% increase over the same period in 2020. * However, this statistic should be viewed with caution because a year prior, showrooms were only just beginning to reopen after the first nationwide lockdown and sales were sluggish at best.
What's more illuminating is that in the same month, 34,363 new vans were registered. This figure indicates an evolution in how goods and delivered from business to end-user. HGVs are not as favoured as they once were. Businesses prefer light commercial vehicles.
This makes sense when you consider that supply chains have faced immense pressure to seamlessly distribute products on a global scale throughout the pandemic. Loading bay solutions and docking equipment that accommodate smaller commercial vehicles are not advised, they are necessary.
In times like these, it's never been more important for businesses to innovate and adopt a progressive approach to logistics. From selecting the appropriate loading bay solutions to accommodating the increased number of light commercial vehicles and adopting mobile docking ramps, businesses have had to get creative in their warehousing and distribution operations.
A Shortage of Technology
Beyond the effects of supply chain mobility, record commercial vehicle and operational limitations have prompted a shortage of essential components, namely computer chips and semi-conductors. This affected production volumes greatly with deliveries of new commercial vehicles – and cars being delayed.
According to figures released by the Society of Motor Manufacturers and Traders (SMMT), in February 2021, commercial vehicle production in the UK was down 45% compared to the same month in 2020 with only 4,308 units being built, * the fifth consecutive month of decline.
However, five months on things look vastly different. In fact, after the huge downturn in industry globally experienced in 2020, the sudden upturn in fortunes has resulted in a shortage in technology – something that has disrupted global supply chains.
So ingrained is technology in automotive manufacturing that a lack of microchips and semi-conductors will severely hamper vehicle production.
Remember too, it's not just vehicles that rely on microchips. It's mobile phones, laptops, wearable technology, pacemakers, ATM's, the list goes on. An important question to ask is, if there is a global shortage of microchips, which products take priority?
However, it's not all doom and gloom. UK-wide restrictions will be lifted on the 19th of July. People – and businesses – can heave a collective sigh of relief and focus on getting back to normal. Warehouses won't have to rely on skeleton staff, social distancing guidelines will be scrapped, and UK-wide supply chains will no longer be disrupted.
Expect the supply of microchips and semi-conductors to bounce back, aided, in part, by improved distribution solutions, like mobile yard ramps and loading bay equipment without which supply chains will, undoubtedly be disrupted.
What Does the Future Hold?
It's pretty clear that the rise in online shopping and a change in commercial operation has prompted the boom in the sales of new commercial vans. However, it could be argued that even without the pandemic, our shopping habits, the increasing popularity of smaller and electric vehicles and the evolution in commercial operations would fundamentally disrupt supply chains.
All Covid has done is to accelerate this evolution. It's likely that we will face further supply disruption throughout 2021. The good news is that we have the ingenuity and ambition to weather any storm. Let's not also forget that now is the time to be optimistic. After the marked slowdown experienced in 2020, things are looking up.
And with the UK-wide lockdown being lifted on 19th July, there's no reason to think that supply chains won't emerge stronger than before.
Source:
https://www.bbc.co.uk/news/business-57723836
https://news.un.org/en/story/2021/05/1091182
https://www.forbes.com/sites/joanverdon/2021/04/27/global-ecommerce-sales-to-hit-42-trillion-as-online-surge-continues-adobe-reports/?sh=18a3c4c450fd
https://inews.co.uk/news/uk/van-sales-soar-demand-home-deliveries-online-uk-lockdown-rules-1086630
https://cardealermagazine.co.uk/publish/semiconductor-crisis-slows-lcv-market-growth-but-almost-35000-new-vans-still-hit-british-roads-in-june/227463
https://www.goultralow.com/ev-owners/benefits/#:~:text=From%20the%20environmental%20impact%20to,petrol%20or%20diesel%20car%20might.
https://www.commercialfleet.org/news/van-news/2021/06/11/royal-mail-commits-to-3-000-more-electric-vans#:~:text=Royal%20Mail%20is%20introducing%203%2C000,in%20vehicles%20it%20currently%20operates.&text=Simon%20Thompson%2C%20CEO%20of%20Royal,per%20parcel%20in%20the%20UK.
https://www.smmt.co.uk/2021/03/uk-commercial-vehicle-production-down-45-4-in-february/