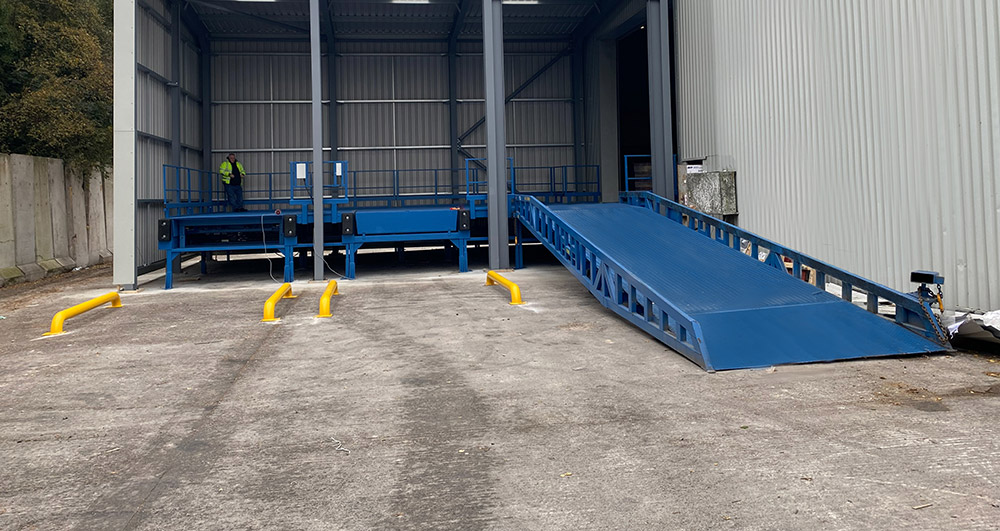 Enhance Productivity with Chase Equipment's Mobile Yard Ramps
When it comes to optimising your loading bay operations, one name stands out – Chase Equipment. We have consistently demonstrated our commitment to quality, innovative design, and precision engineering. Here's why Chase Equipment is your top choice for mobile yard ramps and loading bay solutions.
What are Mobile Yard Ramps?
A Mobile Yard Ramp is a type of ramp that is used to load and unload shipping containers without the use of a permanent docking bay. It is usually placed at the back of the vehicle, allowing machines such as forklifts and plant machinery to gain access to the container to unload and load containers quickly and safely.
The key to a Mobile Yard Ramp is that it can be flexible enough to move and transport around the yard. Our Mobile Yard Ramps at Chase equipment consist of standard, off-the-shelf ramps, and bespoke solutions for your requirements.
Comprehensive Range of Solutions
We offer a wide range of intelligent materials handling solutions designed, engineered, and often manufactured in our West Midlands factory. Our solutions include scissor lifts, industrial doors, container loading ramps, mobile yard ramps, and various loading bay equipment such as dock levellers, modular docks, dock shelters, dock seals, and edge of dock levellers.
A Century of Excellence
Chase Equipment has been a trusted name in the market for over 100 years. This distinction has been earned through unwavering attention to detail and the use of top-quality materials. What sets us apart is our flexibility and rapid response. We strive to operate efficiently to meet the diverse needs of our customers.
After-Sales Commitment
At Chase Equipment, our commitment extends beyond the sale. All our products come with the option of an extended service and training agreement. This ensures that you receive professional after sale care, making your experience with us seamless and worry free.
Customisable Options
Our mobile yard ramp solutions are designed to match your unique business requirements. Whether you need one-time servicing, a long-term contract, or a quick response to breakdowns, we are here to provide you with the best possible solution.
Nationwide Support & Servicing
Chase Equipment understands the importance of keeping your operations running smoothly. Our large team of experienced service engineers operates nationwide, providing 24/7 breakdown cover. We service all makes and types of mobile yard ramps, not just our own. This minimises costly downtime, ensuring your business remains efficient and productive.
Operator Training
Safety is a top priority here at Chase Equipment. We offer a comprehensive training program for the operational use and daily/weekly maintenance checks of our ramps. This training ensures that the equipment is in a suitable condition for safe and efficient operation.
Get in Touch
If you are looking to improve your current loading bay solutions or seeking advice on your load handling processes, please don't hesitate to contact Chase Equipment today. Our team is always ready for a friendly chat, offering non-contractual advice and top-notch solutions tailored to your needs.
"*" indicates required fields