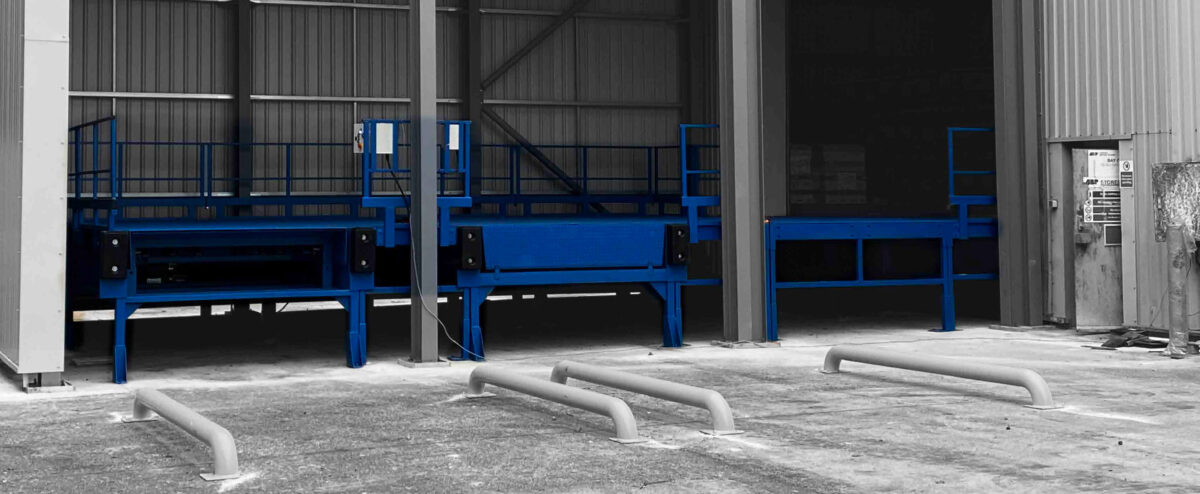 Dock Levellers are a crucial component of modern loading bay operations. They play a pivotal role in bridging the height gap between a warehouse or facility floor and the bed of a vehicle, facilitating efficient loading and unloading processes. These sophisticated mechanisms are designed to ensure that goods can be seamlessly transferred between a vehicle and the facility with minimal effort, while also enhancing safety and productivity.
Key Features of Dock Levellers
Steel Construction: Dock Levellers are typically constructed from steel, making them robust and durable. They are engineered to withstand heavy loads and provide long-lasting performance.
Load Distribution: Dock Levellers are also designed with a focus on even load distribution. The support frame is carefully engineered to minimise long-term fatigue and ensure that loads transferred from the deck are correctly distributed.
Versatile Deck Design: The deck of a Dock Leveller allows limited diagonal torsion movement without compromising its structural integrity. This flexibility enables the loading and unloading of vehicles with canted beds.
Electro-Hydraulic System: Dock Levellers are equipped with an electro-hydraulic system powered by a motor rated between 0.75 and 1.1 kW, depending on the leveller's size. These systems require a 415/440V 3-phase power supply and earth.
Corrosion Resistance: To ensure longevity and reduce corrosion risk, Dock Levellers are coated with high-specification rust-inhibiting paint, protecting them from the effects of environmental factors.
Compliance with Standards: All Dock Levellers from Chase Equipment meet the latest European Standards and adhere to the safety requirements of the European directive BS EN 1398:2009, ensuring their quality and safety.
Video:
Customisation Options
Chase Equipment offers a range of customisation options to suit your specific requirements. These options include free-standing dock levellers, door interlock facilities, vehicle restraint system interlock facilities, high-impact absorbing buffers, galvanized finishes, foam insulation for sound reduction, and a variety of lip options.
Chase Equipment's Commitment
Chase Equipment is dedicated to providing top-quality Dock Levellers that enhance the efficiency and safety of loading bay operations. Our products are designed and manufactured to meet the highest industry standards, ensuring that you receive the best solution for your loading bay needs.
Get a Quote
Ready to enhance your loading bay efficiency with Chase Equipment's Dock Levellers? Contact us today to learn more about our full range of products and services and request a quote. Chase Equipment is your trusted partner for exceptional loading bay solutions.
"*" indicates required fields