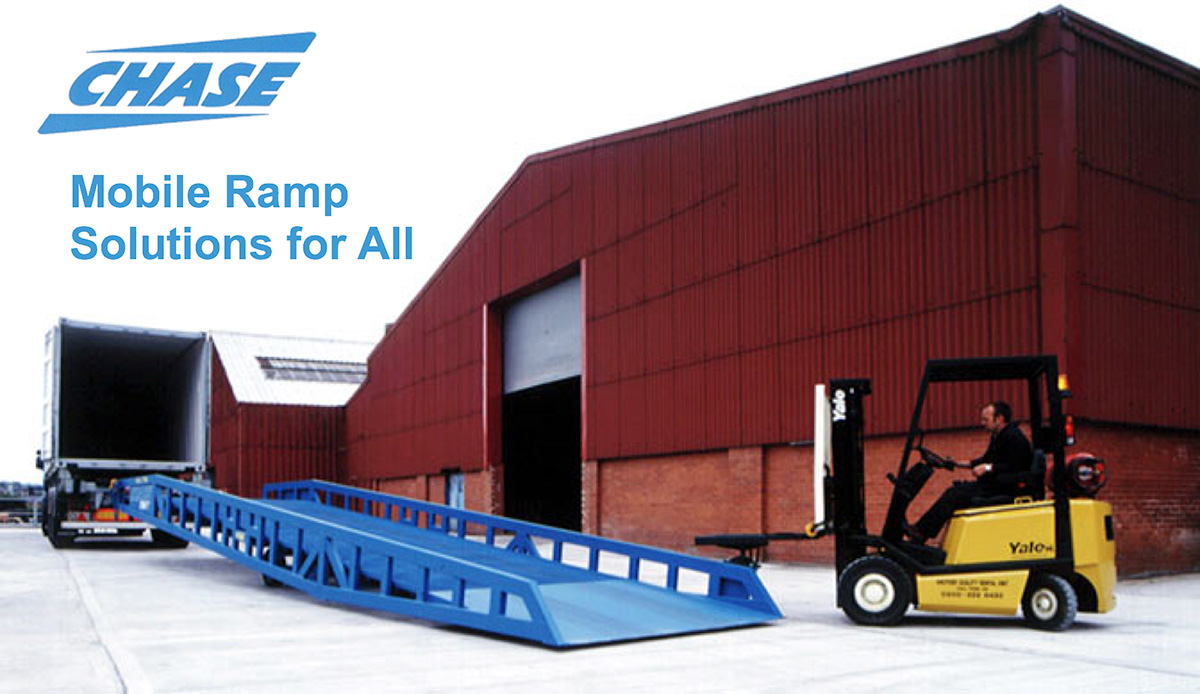 The Key Attributes You Need to Consider When Choosing a Mobile Yard Ramp
Let's be honest, traditional, static yard ramps are not as efficient as mobile yard ramps. They take up valuable square footage and, in many cases, dictate how the available warehouse space is used. And that's just for starters.
Mobile yard ramps do not have the same problem. They're versatile, improve the efficiency of overall operations, are built to be supremely functional and easy to move. Better still, they provide loading and unloading solutions for commercial vehicles of all sizes and descriptions.
Given the superior solutions they offer, it should come as little surprise that mobile yard ramps are increasingly relied upon by businesses. Now that the nationwide lockdown has been lifted and UK businesses are allowed to resume normal services, many businesses, whether recovering from the impact of Covid-19 and Brexit or who are determined to optimise their warehousing processes, are intent on optimising their processes.
Implementing mobile yard ramps is, quite simply, one of the best decisions that businesses can make to optimise their warehouse process – and their key attributes prove this.
Interested in learning of the key attributes that mobile yard ramps need to have to demonstrate their value to your commercial facilities? We've got the lowdown for you.
Deck Grating
There will always be health and safety concerns when working in a warehousing environment. Minimising accident potential is absolutely paramount – and something that businesses need to make sure that they do.
Mobile yard ramps constructed of anti-skid serrated steel will prevent any forklift trucks from sliding down the elevation when transporting goods. Moreover, deck grating can disperse the stress or weight of forklifts, preventing deformation and prolonging the service life of the dock ramp itself.
Hydraulic Cylinder Undercarriage
As anyone who has ever worked with, or operated, heavy duty machinery, it's value to operations is only as good as its efficiency. Where possible, businesses need to choose a hydraulic cylinder undercarriage.
Why? Hydraulic cylinder undercarriages raise the ramp evenly every time. Choose a mobile ramp of a renowned brand or reputed business and you can be assured of superior performance and a reliable design. The least of which are fewer parts to maintain, saving you considerable cost and downtime in the long run.
A Single Pump Station
Mobile yard ramps with a single pump station require half the effort needed to raise the ramp. With their relocated pump stations, they can be protected from dirt, debris, and the potential threat of damage.
Why is this beneficial? Well, mobile loading ramps with a single pump station offer superior longevity being protected from environmental factors that can compromise their long-term performance – and can be more easily stored out of the way when not in use.
High Tensile Strength
As you can probably guess, the tensile strength of mobile yard ramps is paramount to their performance. However, what you might not know is that the supporting legs are key to superior longevity
The ramp's legs are important because they support the weight of mobile loading ramps when in storage. This mitigates any risk when the ramp isn't in use. However, when not in use, supporting legs must be retracted. Why? They're used to keep the balance of the forklift loading ramp for storage.
Moreover, after mobile dock ramps and forklift's have been used to transfer cargo to and from the warehouse to a container or vice versa, the height of the container will be reduced. If the supporting legs are not retracted, there will be a vertical distance between the container and the ramp platform which will stop the forklift from being able to exit the container.
A Guard Rail
A good mobile docking ramp needs to have a guard rail. This promotes strength and stability as part of the truss structure and distributes the weight along a wider area, making the ramp durable and sturdy.
Not only that, guard rails enclose all working components, protecting them from external influence influences which can damage the ramp.
Leading Board
Since we're on the topic of stability, mobile docking ramps which come equipped with a leading board which allows for smooth level transfer of product by completely eliminating any bumps which, if severe enough, can cause products to tip over.
Best of all, leading boards can be folded for easy, convenient storage in a warehousing facility and used only when needed.
Tyre Blocks
Now, there's much more that keep mobile docking ramps stable and secure other than guard rails and leading boards. Mobile yard ramps also come equipped with tyre blocks also stabilise the equipping, stopping them from accidentally rolling when on a slant.
Tyre blocks are especially useful when forklift trucks are in use on an elevated ramp and are requisites when moving forklifts up and down the ramp. Better still, some mobile yard ramps come equipped with solid tyres that are not pumped with air, are maintenance-free and have lubricated bearings to ensure long-lasting performance.
Lip and Safety Chains
For increased safety and security, lip and safety chains can be used to secure mobile docking ramps in place, guaranteeing that the wheels will not accidentally roll when elevated or if force has been applied to the yard ramp.
Having a deep overlap frame at the high end assures that the ramp rests firmly on the container body or dock floor, further securing a mobile yard ramp in place. The safety chains and hooks provided add security and increase safety. Provided that they are correctly rigged, chains join the yard ramps and vehicles into a single unit.
Towbar
Ideal for container ramps, towbars can be attached to the lower end of the ramp, enabling them to be moved short distances within an environment. Although not suitable for long haulage, towbars allow mobile yard ramps to be moved from one location to another within an environment, creating more space and making loading and unloading in a specific environment swift and easy.
Best of all, it doesn't require more than one person to lift and move yard ramps, preventing any potential accidents whilst safeguarding workers.
Remember These Key Attributes
When choosing a mobile yard ramp for your commercial or industrial premises, it can be easy to underestimate what you need to consider. However, not making sure that you've got all the boxes ticked can cause headaches down the line.
Shrewd businesses across the UK are well-versed with the superior performance that mobile docking ramps offer. If you're considering using a mobile yard ramp but have yet to make your final decision, we only have one question: what's stopping you?
Give us a call today at Chase Equipment Ltd – 01902 675 835